Zucchini Stuffing Casserole
Paula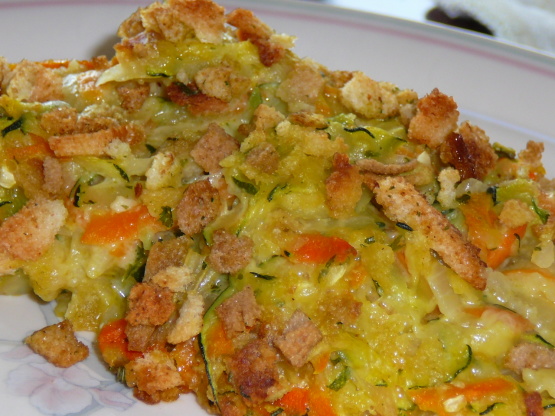 Good and tasty use for all that extra zucchini. Try adding other vegetables like shredded cabbage or meat and cheese and make it a whole meal.

Top Review by Paula
A really tasty way to use zucchini. I did not parboil or steam the zucchini, since I like mine al'dente rather than too soft. I ended up baking the dish for about 40 minutes and it actually worked just fine doing it this way. I also discovered half-way through preparing the casserole that I was out of croutons, so I substituted Chicken flavored Stove Top Stuffing and found that this was very complimentary to the other ingredients. Thanks for posting such a versatile dish! We loved it! UPDATE 8/28/2008: I wanted to post a photo and updated review ... I decided to try shredding the zucchini so that I could disguise it for my non-zucchini eating children. It worked FABULOUS! Wonderful flavor and very pretty casserole!
Preheat oven to 350°F.
Cook zucchini in a little salted water until tender.
Fry carrots and onions in 4 tablespoons of butter.
Remove from heat and stir in 1 1/2 cups croutons, soup and sour cream.
Gently fold in zucchini and put in 8" x8" dish.
Toss remaining butter and croutons and put on top.
Bake for 30 to 40 minutes.
Enjoy!