Zucchini Stuffed with Corn and Cheese
dicentra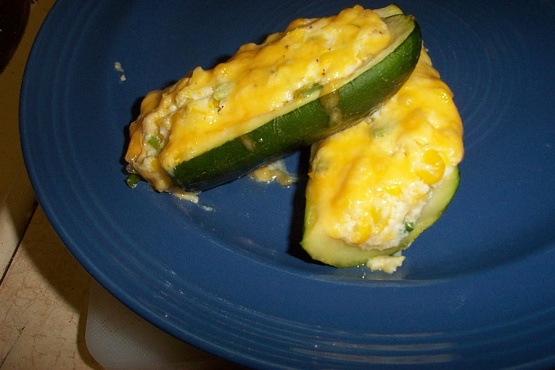 This recipe is one of only a handful of ways that I will eat zucchini. Corn, cheese and zucchini are just made for each other...a perfect combination for summer time meals. I don't bake this too long because I like it to just be crisp-tender.

I recently made this to take to a dinner party. Easy to transport, easy to serve AND everyone loved it! This is a keeper.
Blanch squash in boiling salted water for 5 minutes.
Place under cold water and drain.
Halve and scoop out the seeds, forming a hollow boat.
Coarsely puree the corn, chives and ricotta cheese in a food processor and season with cayenne, salt and pepper.
Fill the squash halves with the mixture, mounding slightly.
Cover with the grated cheese.
Place in a buttered casserole and bake, covered, in a preheated 350 degree F.
oven for 15 minutes.
Uncover and bake 20 minutes more or longer until the squash is tender and the topping is browned.
Serve topped with fresh cilantro.