Zucchini Squash-Rice Casserole
Parsley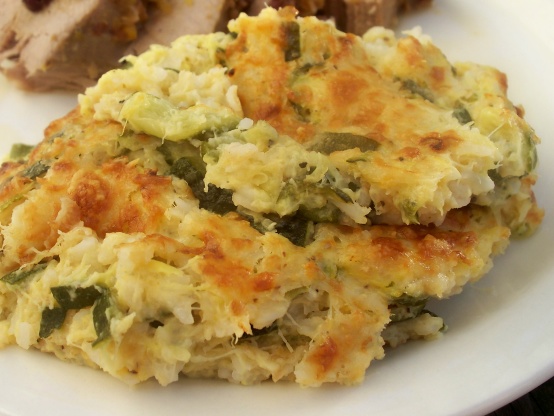 My family and I certainly enjoyed this casserole. The zucchini, rice, and cheese definitely appealed to our tasters. The sour cream adds extra richness. Kind of funky looking but we thought the taste was excellent. A great side dish.
Preheat oven to 350 degrees.
Combine first 3 ingredients in a dutch oven, bring to a boil, cover, reduce heat, and simmer 20 minutes or until tender.
Drain; partially mash with a potato masher.
Combine zucchini mixture, rice, sour cream, cheddar cheese, 2 tablespoons parmesan, breadcrumbs, salt, pepper, and eggs in a bowl; stir gently.
Spoon zucchini mixture into a 13 x 9 inch baking dish coated with cooking spray; sprinkle with 2 tablespoons parmesan.
Bake at 350 degrees for 30 minutes or until bubbly and golden.
Preheat broiler.
Broil one minute or until lightly browned.