Hey Jude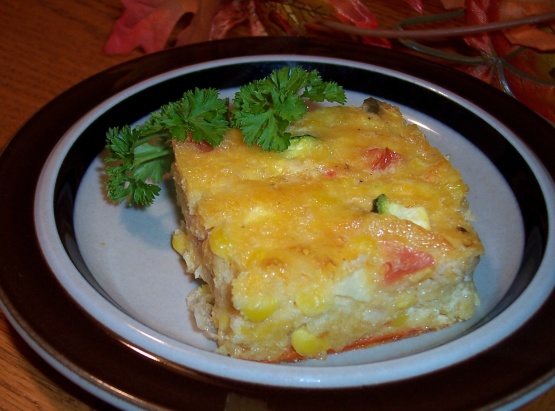 This spoon bread is delicious, a good way to use those zucchini out of the garden. For extra flavor or heat add 2 or 3 jalapeno peppers. Recipes comes from Betters Homes and Gardens.com. Spoon bread is a side dish, eaten with a spoon. It is called a bread because of the ingredients. Enjoy

I sauted the vegetables in bit of olive oil instead of boiling them, then added some extra milk. I also used low-fat sharp cheddar cheese. It made a great meal together with some beans in mole sauce. My husband described it as "quiche-y" but it was a good balance of heartiness and fresh vegetables. Thanks for a different way to use zucchini.
In a large saucepan combine, corn, onions, pepper strips, and water; bring to boiling; reduce heat, cover and simmer for 5 minutes (If adding Jalapenos, add in this step).
Do Not drain, stir in zucchini, tomatoes, cheese and cornmeal, set aside.
In a small mixing bowl beat eggs; stir in milk, salt, pepper, and hot pepper sauce; STIR egg mixture into the vegetable mixture in saucepan.
Turn mixture into a greased 1-1/2-quart casserole;Bake, uncovered, in a 350 degree oven about 40 minutes or until set, Let stand for 5 minutes before serving.