Zucchini Soup With Herbed Cream
Debbwl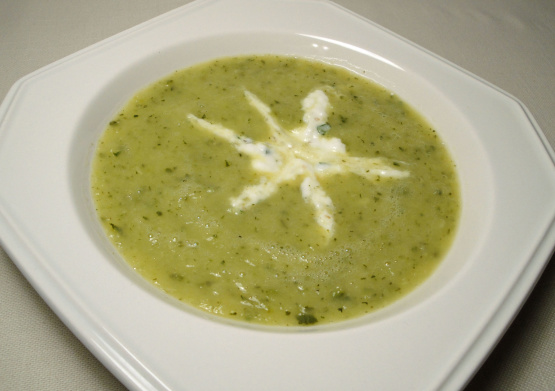 A smooth and creamy zucchini soup, served with a dollop of herbed cream. Dish is a Swanson Broth recipe.

Top Review by Debbwl
An appetizing soup that is made by the magnificent herb cream that adorns it. I made as written cutting in half as it was just DH and myself so instead of using the blender to cream I used the emulsifier to cream. Will be making again, thanks for the post.
Stir the sour cream, 1 teaspoons of the basil and 1 teaspoons of the oregano in a small bowl. Cover and refrigerate.
Heat the oil in a 4-qt. saucepan over medium heat. Add the onion and garlic and cook until tender. Add the zucchini and pepper. Cook for 5 minutes or until the zucchini is tender.
Add the broth, remaining basil and oregano. Heat to a boil. Reduce the heat to low. Cover and cook for 15 minutes.
Place one-third of the zucchini mixture into a blender or food processor. Cover and blend until smooth. Pour the mixture into a large bowl. Repeat the process twice more with the remaining zucchini mixture. Return all of the pureed mixture to the saucepan. Cook over medium heat for 5 minutes or until hot. Place one tablespoons of the sour cream mixture on top of each bowl of soup.