Parsley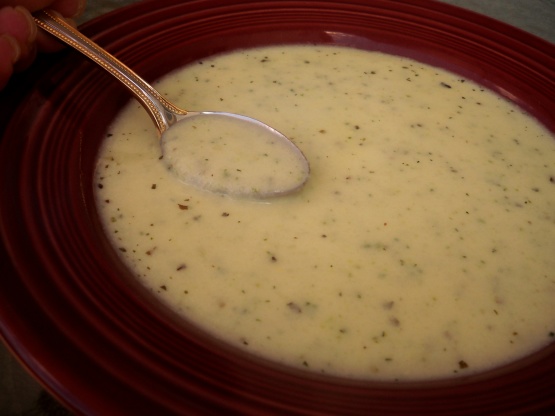 I have made this numerous times and it is always tasty. This definately has a zucchini taste to it.

Lovely soup! It's creamy and smooth with a nice flavor. I saw no reason for 1/2 cup of butter, so I only used 3 tbsp. I also used fat free half and half. Even with these fat reductions, the soup was still creamy and delicious. It was quite simple to make as well. This bis an ideal recipe to use up those giant zucchinis from your summer garden. I enjoyed this as a hot soup, but I'm sure it's great served cold, too. Thanx for sharing!
Simmer the first four ingredients for 15 minutes. Puree this in two batches. Be careful as it is hot and make sure you hold the lid down on the blender.
After zucchini mixture is pureed you mix in the rest of the ingredients. Heat through and serve. You can serve it hot or cold.