Zucchini-Sausage Brunch Casserole
Karen R.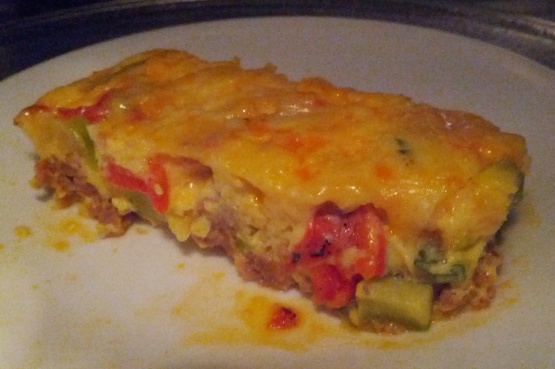 You can prepare this casserole the night before and bake it the following morning, or prepare it in the morning to have for dinner! You can really use any amount of cheeses for this recipe, and you can increase the amount of sausage also, small pork breakfast sausages can be used in place of Italian sausage, you won't have to remove them from the casings, just cook them and then crumble.... this casserole is worth making, it's delicious!

I've made this many times usually with Jimmy Dean sausage (any variety) as we eat it for breakfast. It's also good with fresh red or green peppers as an alternative. Sometimes I cut 8 oz cream cheese and throw it on the top. There's nothing you can do to mess this up - it's always great!
Grease a 13 x 9-inch baking dish.
In a skillet cook the sausage meat until no longer pink; drain fat.
Add in the onions, garlic, zucchini; sate until the veggies are tender (about 4 minutes) season the mixture with seasoned salt or white salt and black pepper.
Add in the chopped roasted red bell peppers; cool slightly.
Spread about 4 cups bread cubes in the greased baking dish.
Top with HALF of the sausage mixture then HALF of the shredded cheese.
Repeat with remaining bread cubes, then remaining sausage and then remaining cheddar cheese.
In a bowl whisk together eggs with half and half cream; pour the egg mixture over the casserole.
Cover and chill for 8 hours.
Before baking sprinkle grated parmesan cheese on top.
Bake covered in a 325 degree oven for about 50-60 minutes or until hot and bubbly.