Zucchini, Sausage, and Feta Casserole
FiaNia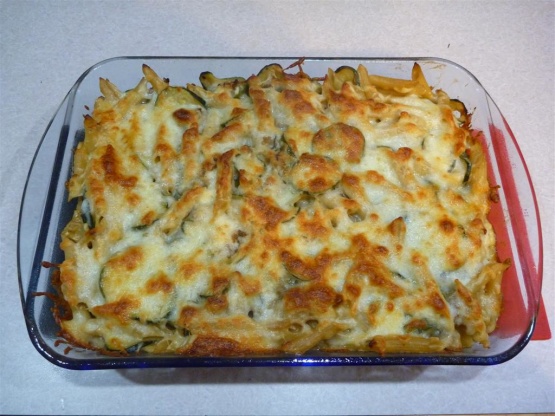 Trying to use up that late summer crop of zucchini? This is a hit for patio get-togethers.

Top Review by FiaNia
Super Yummy!! Zucchini & Sausage are 2 of our favorite things. This recipe gives us both! I would reccomend not skimping on the sausage. I didn't have quite enough but it was still good. I also reccomend Hot italian sausage and cooking some red pepper flakes with the Zucchini mixture. I might even try adding mushrooms next time. And we used whole wheat pasta which always gives more flavor in my opinion. Oh, and we upped the feta to about 3/4C. Overall...this recipe is AWESOME! We loved it and will definately make it again soon!
Preheat oven to 400 degrees.
Cook pasta in boiling, salted water for 5 minutes. Drain.
Remove casings from sausage. Heat oil in larege skillet over medium-high heat. Add sausage to pan, stirring to crumble; cooked until browned. Remove sausage from pan, reserving small amount of fat in bottom of skillet. Drain sausage on paper towel. Add zucchini, onion, garlic, and salt and pepper. Saute 8-10 minutes until vegetables are tender and zucchini is beginning to brown, stirring occasionally.
Whisk broth and flour together in small bowl. Add broth mixture to skillet, cook 1 minute. Combine zucchini mixture, pasta, sausage,and feta cheese in a large bowl; toss well. Spoon into a buttered 11x7" baking dish. Sprinkle evenly with mozarella cheese.
Bake for 20 minutes or until bubbly and lightly browned.