Tona C.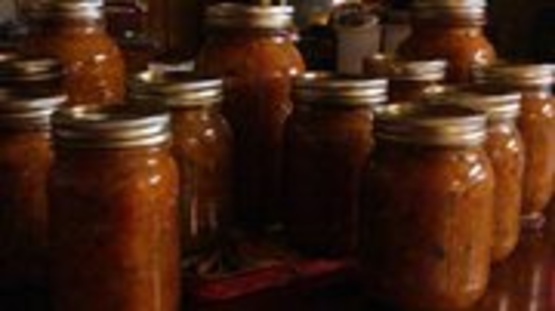 This is a delicious salsa recipe that my sister-in-law and I have adapted to a flavor combo that we like. It's thick and crunchy with fresh garden veggies. Each bite will start with a slightly sweet taste which is followed by a slow burst of heat. You can add more chopped ripe tomatoes to make it thinner or more jalapeno peppers or red pepper flakes to give it the heat explosion that you desire. From the kitchens of Michele Harvey Thornburg and Tona Thornburg Court.

This is a fabulous recipe...I canned up 30 jars of zucchini relish..I had some left over zucchini...kept thinking what to do so I went to my best ever recipe place Food.com and low and behold a salsa I used all my zucchini up no waste..I is soooo good fun to make to went right by the recipe put in 6 chopped fine banana peppers..everyone loves it! Thank you
Day One: In a large bowl or stainless pan combine: zucchini; onions; green bell peppers; red bell peppers; jalapeno peppers; banana peppers; minced garlic; and 1/2 cup pickling salt. Mix together, cover, and let stand overnight.
CAUTION: do not use an aluminum container for soaking or cooking -- the speckle ware pans or stainless will work well.
Day Two: Rinse zucchini mixture thoroughly; drain well; and put into a large cooking pot. Then add dry mustard; garlic powder; cumin; white vinegar; brown sugar; red pepper flakes; 2 tablespoons of pickling salt; ground black pepper; chopped tomatoes; and tomato paste. Bring to a boil and simmer for 15 minutes. Stir frequently to avoid sticking or burning. Pour into sterilized jars and seal. Water bath jars for 15 minutes.