Cookin-jo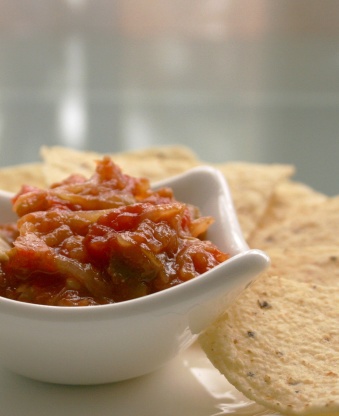 This recipe is from a friend's, daughter's mother-in-law (kinda like a 5th cousin twice removed and it is delicious! If you want it "HOT" just add a dozen finely chopped jalapenos. I do not water bath the jars but I am very careful with sterilizing and make sure the lids are sealed. I you feel better waterbathing them do it for 15 minutes.

Top Review by Karen7
What an awesome way to use up my zucchini (there always seems to be too much). This recipe surprised my friends and family who couldn't believe there was more zucchini than tomato in it. We found it was plenty hot with only 5 jalepenos.
Day one:In a large bowl combine; Zucchini, onions, green pepper, red pepper and the salt Mix together cover and let stand over night.
Day two.
Next day rinse, drain well and put into a large pot then add mustard, garlic, cumin, vinegar, brown sugar, pepper flakes, salt,cornstarch, nutmeg, pepper, 1 tablespoon salt, tomatoes and tomato paste.
Bring to a boil and simmer for 15 minutes.
Pour into sterilized jars and seal.
Water bath jars for 15 minutes if they have not sealed properly.