MISSIB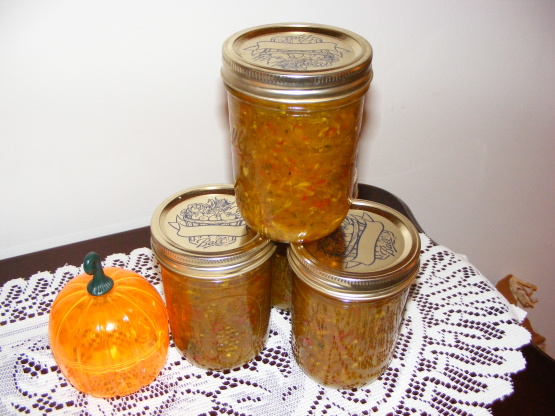 Got this from a co-worker who got it from a friend of hers. This is the best zucchini relish I've ever had. We put it on white beans, hot dogs, in tuna salad, chicken salad, ham salad, and sometimes have it as a side dish. It is really good.

Top Review by MISSIB
Missib says in fairness this hasn't set too long but it seems like a lot of vingar plus a lot of sugar - gives your mouth pucker-power. But this is her first shot at canning so to speak but she did follow all the directions here so maybe it is suppose to give you pucker power. This is a nice recipe and she enjoyed making it and she liked it very much.
Simmer 30 minutes.
Pour in sterilized, hot jars and seal.
Use enamel or earthenware utensils, not aluminum.