Boomette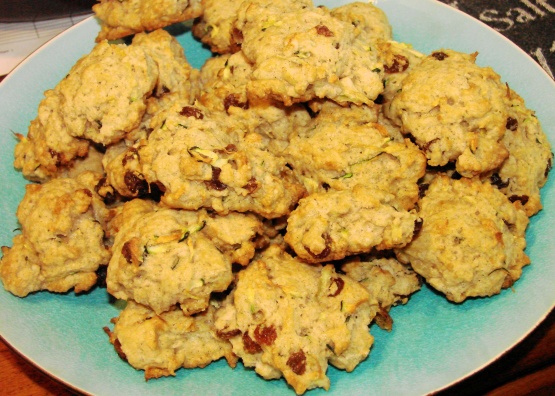 This was given to me by a good friend and I have used it a lot. These freeze really well, I put them in small pkgs and bring them out of the freezer as needed.

Tip: be sure to press all the moisture you can out of your zucchini before using. If the batter is still too loose, add 1/2 - 1 cup of oats instead of flour. <br/><br/>These cookies were surprisingly light and fluffy, but other than that, they were not a great success. Prepared as written, the dough was entirely too wet, much more like a cake batter than a cookie dough. I added a cup of quick cooking oats and refrigerated it for 45 minutes and the dough was still very soft, although they spread and rose nicely in the oven.<br/><br/>I think many readers, myself included, might find the need to up the flavorings,since it's a very mild cookie made with shortening instead of butter. I don't think I'll make them again. Even with tweaking it produced a decidedly average, though very cake-like, cookie.
In lg mixing bowl, cream shortning and sugar.
Beat in egg.
Stir in zucchini.
Mix flour with other dry ingredients.
Add to creamed mixture; mix well.
Stir in raisins.
Drop by TBS onto greased baking sheet.
Bake at 375* for 12 minutes, or until light brown.