Debbwl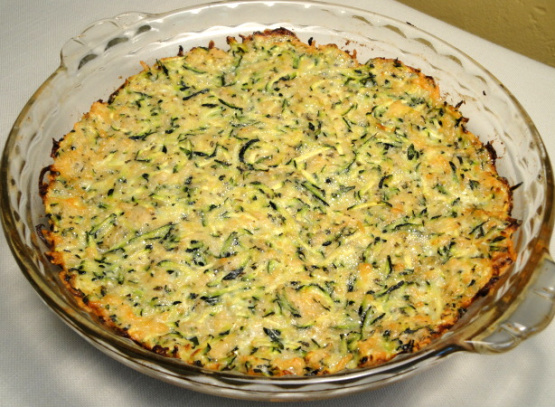 From my e-cookbook collection, this looks yummy and interesting. The only ingredient in here that I changed was to use 3 egg whites instead of 3 whole eggs as originally called for-- since you don't need yolks to bind and all. Can use any kind of flour but I think whole wheat or bread flour would add great substance and flavor. (1/3 cup AP flour + 1 teaspoon vital wheat gluten = 1/3 cup bread flour) But the only quirk with this recipe is that unlike flour doughs, you can't bake with the sauce, cheese, and toppings on or else it'll fall apart-- you have to bake this dough first.

Top Review by Debbwl
Great flavor and texture! But not so sure about it being a pizza crust. Used mozzarella and Recipe #427676 as our pizza topping. The quizzing dry is a must and the basil and parmesan really shine. The top and bottom both got gold brown and the center stayed lightly moist. Baked in a pie plate as I do not own a pizza stone and even though I sprayed it with cooking spray there was still a little sticking. Made as written and think next time may add just a little garlic, although not sure as we really like the flavor as was. This would be great with just a cheese topping. Did not use pizza sauce and am glad I did not as think it would have over powered the light flavors and would also have made it way too wet. Bottom line yes I will be making again. Thanks for the post.
You need about 3 1/2 cups zucchini-- about 3 medium size zucchinis should do it. Grate it coarsely with a vegetable shredder/peeler, food chopper, mandolin, etc.
Place the zucchini in bowl and lightly salt then let sit for 15 minutes and.
squeeze out all the water that is rendered. Roll in a towel and twist.
again. This is to remove all the water-- if you don't remove the water, it won't bake right.
Mix with the rest of ingredients in a bowl.
Grease a pizza stone or 10" baking dish with cooking spray, then place the dough into it.
Bake at 350F until the top is dry and lightly browned, about 20-30 minutes.
To eat right away, add your favorite sauce, cheese, and toppings then bake at 350 for another 15-20 minutes.