Zucchini-Pineapple Wheat Bread
diner524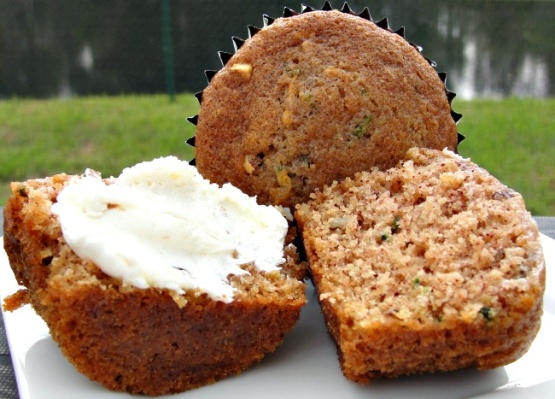 A healthier version of a family favorite.
Fantastic Zucchini bread!!! I made this exactly as written, although made one loaf and 12 muffins. I froze the loaf and 10 of the muffins as I plan to eat the muffins for a quick breakfast with a smear of cream cheese and use the loaf for a future brunch with company. This has the perfect sweetness for me and love the moistness of the muffins/bread and I definitely can taste the pineapple, so good!! Thanks for sharing the recipe! Made for your football pool win, congrats again!!!
Preheat oven to 350F degrees. Grease two 9x5" loaf pans.
In a large mixing bowl, combine first 8 ingredients (flour through nutmeg); make a well in the center of the mixture.
In a small bowl, combine eggs, oil, applesauce, and vanilla; add to flour mixture, stirring just until dry ingredients are moistened. Stir in zucchini, pecans, and pineapple.
Spoon batter into prepared loaf pans. Bake for 55 minutes or until a wooden toothpick inserted in center comes out clean. Cool in pans on wire racks for 10 minutes; remove from pans, and cool completely on wire racks.