Zucchini, Pineapple, Ginger Jam Kicked up With Habanero's
Rita1652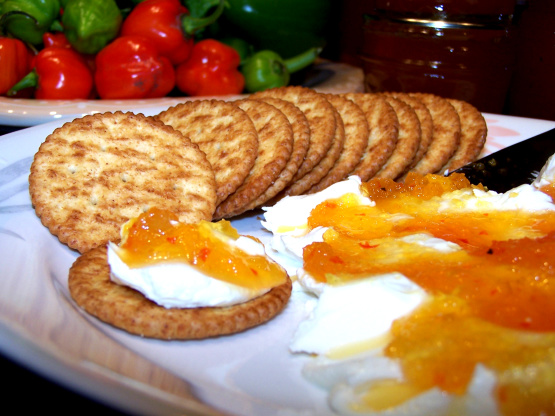 I came up with this sweet and spicy jam after picking goodies from my garden and looking at Zucchini, Pineapple, Ginger Jam which I posted 4 years ago. Had home growing Habaneros so added and what more do I need to say? This would be great served over a grilled chicken or fish.

Top Review by Smilyn
I searched far and wide to find something that I could use zukes in, then I came across this. I'm glad I did because it is a really great jam with all kinds of goodies in it: zukes, pineapple, ginger, and habanero. I canned this the other week and just got to taste it tonight with some cream cheese on crackers (like the pic)... amazing and addicting. It's a bit sweet for me, but the DH loved it. I didn't have crystalized ginger on hand, so I ended up using a nub of fresh ginger. We didn't add the red dye to the jam because we stay away from dyes in general. I canned in the small 4oz jelly jars to give away for Christmas. I can see al the bits of goodies in the jam, so it looks very pretty. I think this will be good on some chicken, shrimp, and pork. Water it down a tad and use it as a spicy glaze when grilling. DH says it could probably go with goat cheese... hmmm.. sounds like a good idea to me! Thanks for this recipe!
907.18

g seeded and cubed zucchini

566.99

g can crushed pineapple

6-8

habaneros

28.34-85.04

g crystallized ginger (use more if you like more kick less if you don`t!I myself like a lot!)

1182.95

ml sugar

85.04

g of ball fruit jell (liquid pectin) or 85.04 g Certo (liquid pectin)

170.09

g box pineapple Jell-O
food coloring (Red and yellow)
Place zucchini, pineapples, habanero`s and crystallized ginger in a food processor and puree.
Add to a heavy bottom pot with sugar and boil for 20 minutes. That`s a rolling boil.
Stirring all the while.
Add Certo and bring to a full rolling boil for 1 more minute add jello and stir to blend.
Add some red food coloring and more yellow to produce a color to your liking.
Ladle hot jam into hot jars leaving 1/4 inch head space. (Filling 4-1 pint jars or 8 1/2 pint jars.I like to do the 8 jars because there would be more to give as gifts.) Wipe rim. Center lid on jar. Apply band until fit is fingertip tight.
Process in a boiling water canner for 10 minutes, adjusting for altitude. Remove jars and cool. Check lids for seal after 24 hours. Lid should not flex up and down when center is pressed. Label, Decorate, And Gift!