Mmmama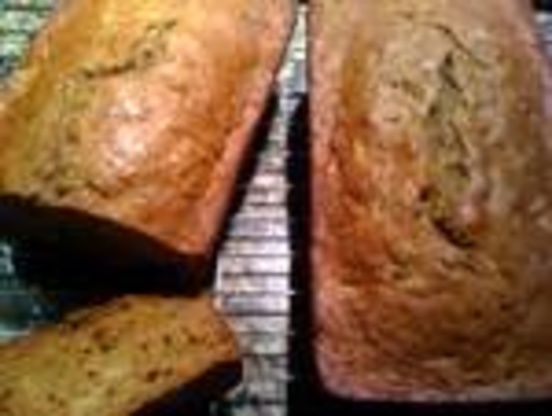 I found this in a cookbook from college. It's an excellent way to use up your zucchini's in the summer and makes your house smell wonderful.

Top Review by Mmmama
Thanks! I think this is a great recipe - good flavors that come together nicely. Instead of all the oil, I used 1/2 c applesauce and 1/2 c oil, which I think makes the bread bake up a little faster - mine was done in about 45 minutes. I'll definitely make this again.
Beat eggs in a large bowl to blend.
Add oil, sugar, and vanilla and beat until thick and foamy.
Stir in zucchini and pineapple.
In a separate bowl combine flour, baking soda, salt, baking powder, cinnamon, nutmeg, cloves, orange zest, and nuts.
Stir gently into zucchini mixture to blend.
Bake in 2 greased loaf pans at 350 degrees.
Check after 50 minutes by testing with a toothpick, if toothpick comes out clean bread is done, if not put back in for another 5 minutes.
Cool 10 minutes.
* For 4 small loaves, bake approximately 35 - 40 minutes.