Zucchini Pepper Basil Pasta Toss
vrvrvr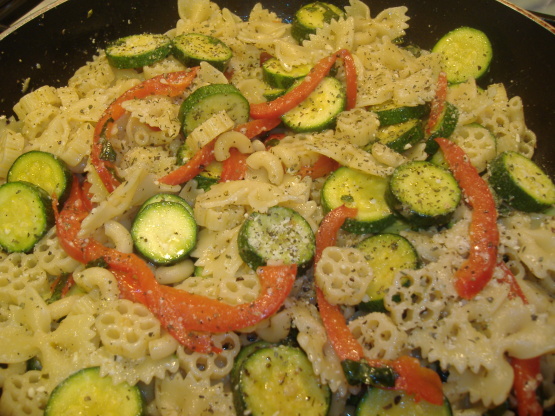 Feel free to use this as a base and jump off at will with veggies and herbs. This is good for a little bit of zucchini, a little bit of fresh red pepper, a little leftover pasta in the bottom of the boxes...you get the idea. Great with grilled chicken.

This was easy and delicious!!! I added some smoked sausage I had left over in the fridge and some banana peppers to add a bit of heat!!! Thanks:)
Cook pasta in plenty of boiling, salted water as directed.
Meanwhile, in large skillet, heat olive oil over medium-high heat.
Add zucchini, red pepper and garlic. Sprinkle with Italian seasoning, salt and pepper. Saute, letting all brown lightly.
Sprinkle basil evenly over skillet. (If necessary, reduce heat a bit, so that vegetables don't burn.).
Drain pasta, then add pasta to skillet with vegetables. Add vegetable broth. Cook and stir briefly.
Add Parmesan cheese.
Serve.