Zucchini or Yellow Squash Casserole
Trixyinaz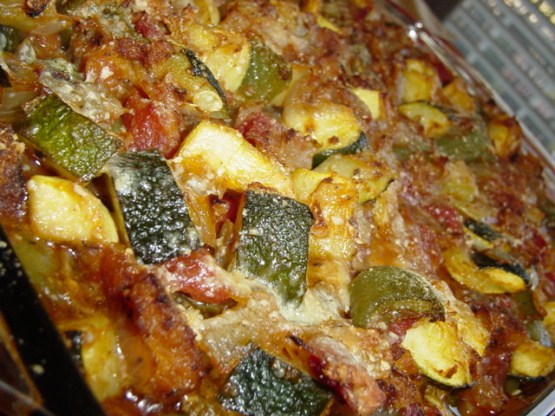 This is different from your usual squash recipe.A friend of mine brought it to a pot luck dinner 15 years ago and it has been a family favorite since then.

This recipe is excellent!! We altered it by using (2) 14 oz cans of diced tomatoes with garlic and onions. We found by using two cans instead of one it turned out more moist. We definitely recommend this recipe. It has become one of our favorites!!!!
Saute onions&bell pepper in margarine for 5 minutes,add squash that has been sliced and cubed.
Saute 5 min more,add tomatoes, (break up whole tomatoes) cook 5 more minutes.
Add bread cubes and seasonings.
Put in 2 quart casserole,sprinkle top with parmesan cheese.
Bake at 350 for 30 to 40 minutes.