Zucchini, Onion and Tomato Bake
Rita1652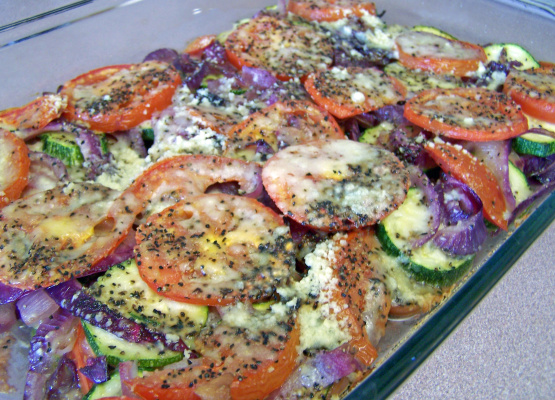 The flavors in this dish really work together, there are never any leftovers and everyone always wants the recipe. Enjoy!!!
I created my own style, zucchini, onions, tomatoes, all sliced, Salt,pepper, Garlic Powder, Chopped Basil, 2-3 TBSP Olive Oil, toss all together place in buttered pan, pour on full cup Chicken Boullon, Sprinkle Parmesan cheese over top or when almost baked @ 350 for 40 minutes , lay several slices cheese of your choice till melted. Remove from oven, let stand for 15 minutes, Serve Delicious!!
3 -4

zucchini

1 -2

large white onion

2

large ripe tomatoes
salt and black pepper
Slice onions into thin rings and saute in olive oil until clear.
Slice zucchini into thin round slices, do the same with the tomatoes.
Into a Pyrex dish (the size depends upon how much zucchini you have) layer as follows: (you should have 3 layers).
One layer of zucchini (do not overlap).
Thin layer of sautéed onions in olive oil.
Tomatoes.
Sprinkle with parmesan cheese.
salt and black pepper (I use quite a bit).
Keep layering until you have parmesan cheese on top (put quite a bit on the top layer, again with salt and pepper) then bake in 350 oven for about 45 minutes or until brown around the sides and bubbly and the zucchini is clear.