Zucchini Mustard Chicken Burgers
PaulaG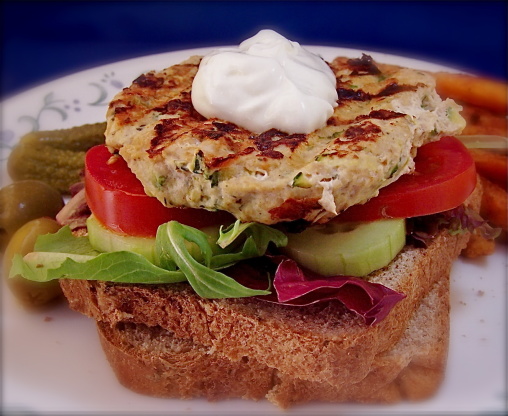 This low GI recipe has been adapted from a recipe in Michelle Trute's 'cooking with conscience book 2' which focuses on low-fat, low GI, easily prepared food. In making this, I processed the garlic and zucchini and used a small amount of oil to panfry the patties in a non-stick pan, and added a dollop of tzaziki on top of the burgers. Zaar would not allow me to include tzatziki as an ingredient, so I've included Greek yoghurt which is what I'd use if I had no tzatziki on hand. If you haven't tried Greek yoghurt before, it's much creamier than other yoghurts. And if you want a good recipe for tzatziki, I recommend Ravenseyes' Tzatziki or Kittencal's Tzatziki (Greek Cucumber and Yogurt Salad). 160 grams of ground chicken = just over 5 ounces of ground chicken.
Top Review by PaulaG
Delicious and oh so moist. I used ground white meat turkey instead of chicken. I wasn't sure if the mustard was prepared mustard or dry mustard so dry mustard was used. These are well flavored and even though a little wet, they hold together well. These were served on sliced whole wheat bread topped with yogurt as suggested. Made for *ZWT 5*
160

g ground chicken

1

egg white

1

teaspoon mustard
1⁄4 teaspoon sweet paprika

1

tablespoon fresh parsley, finely chopped

1

garlic clove, minced
1⁄2 zucchini, finely grated
salt, to taste (optional)
fresh ground black pepper, to taste (optional)
1⁄2 teaspoon oil, for oiling the grill or 1⁄2 teaspoon oil, for oiling the oven tray

2

multi-grain rolls

1

cup salad greens or 1 cup baby spinach leaves

1

tomatoes, sliced

6

sliced cucumbers
salt, to taste (optional)
fresh ground black pepper, to taste (optional)
1⁄4 cup Greek yogurt (optional)
Mix the chicken, egg white, mustard, paprika, chopped parsley, garlic and grated zucchini in a bowl; add salt and pepper to taste (if using) and shape the chicken mixture into two patties; wipe the grill or oven tray (whichever you are using) with the oil and cook on the grill for 5 minutes or place on a tray and bake in a moderate oven for 10 minutes (180°C/350°-375°F/4-5 gas mark).
Toast the buns, divide the salad greens or baby spinach leaves, sliced tomato and cucumber slices inside each of the rolls; add salt and pepper, to taste (if using); top with the chicken patties and add a dollop of Greek yoghurt (if using).