pammyowl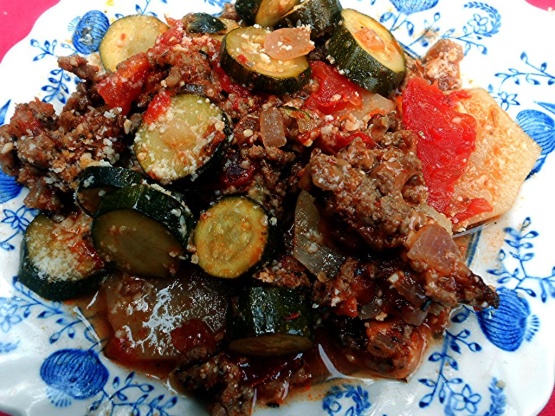 This is my dad's version of moussaka. With zuchini instead of eggplant and without any cheese or cream, just with tomato sauce. You can add parmesan to taste to the sauce, though, or, if you want to be dairy free, some nutritional yeast (that's what I sometimes do). I never measure the amounts, just put together tomatoes, zucchini, potatoes and ground beef, so the amounts are an educated guess. I'm sure this can be done in a crock pot or in the oven, too, but we always make it on stove top.

We really enjoyed this version of moussaka. Loved all of the ingredients in this dish -- the only change I made was to bake it in a casserole form. I will definitely be making this dish again. Served it with a side salad. Great meal tonight.
Finely mince the garlic cloves and shallot. Fry the ground beef with the minced garlic and shallot until nicely browned, season with salt and pepper to taste.
Set aside.
Peel and slice the potatoes, about 1/4 inch thick.
Slice the tomatoes and zucchini likewise.
Combine canned tomatoes, beef stock, 1 tablespoon Italian seasoning and 1/2 tablespoon pepper.
Cover the ground of a large pot with the olive oil, then layer it with the sliced tomatoes.
Sprinkle some Italian seasoning, salt and pepper on the tomatoes.
Place a layer of sliced potatoes on the tomato layer, season the same way.
Place a layer of sliced zucchini on the potato layer, season like the tomatoes and potatoes.
Cover with the browned ground beef as last layer, then pour prepared tomato sauce over it.
You can now sprinkle some parmesan on top. If you use nutritional yeast, I'd recommend to mix it into the tomato sauce. Parmesan mixed into the sauce is another option to play with.
Bring the moussaka to a gentle boil, cover and let simmer on low heat for about 1 hour.
Serve with plain yoghurt if desired.