lazyme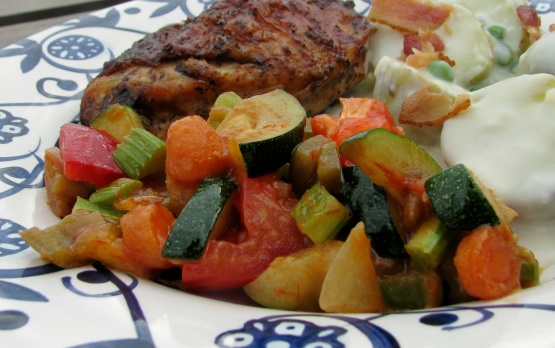 Great way to use fresh from the garden zucchini. This dish can be served as a side dish or over brown rice for a nice light meatless dish. Adjustments were made to the original recipe which comes from The New American Diet cookbook.

What a fantastic vege dish!! I made with all the listed ingredients but cut them all into small cubes and ommited the cheese. I cooked the carrot, celery and onion until soft first then added the remaining ingredients until they were done, leaving a slight crunch. My youngest Daughter who going has recently decided that she wants to be a vegetarian had her's served over rice. The rest of the family had it as a side. Reviewed for ZWT3. Thanks for sharing!
In a 10-inch skillet, heat oil.
Add the zucchini, carrots, onion, celery, green and red pepper, garlic, basil and pepper; mix well.
Over medium-high heat cook covered for approximately 4 minutes, stirring occasionally.
Mix the salsa and mustard; add to vegetables mixing well.
Add tomato wedges and cook uncovered for an additional 3 to 5 minutes or until heated.
Transfer to serving dish and sprinkle with grated cheese.