Zucchini, Jalapeno, Cheddar Crustless Quiche
Prep 20 mins
Cook 45 mins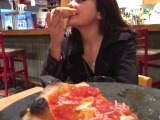 This is just what I created for breakfast this morning. It's summer so we're having zucchini for breakfast, lunch and dinner, snacks and in our dreams. Throw in whatever cheese you have on hand. Don't have jalapenos? Use fresh herbs. Anything goes!
1 large zucchini, quartered and sliced
1 onion, quartered and sliced
1 jalapeno, seeds and membranes removed, then chopped
1 -2 cup cheddar cheese, grated
4 eggs, beaten
1 -1 1⁄2 cup milk
salt and pepper
Directions
Preheat the oven to 375 degrees.
Saute the onion, zucchini and jalapeno until soft.
Season with salt and pepper.
Beat your eggs into a large (4-6 Cup) measuring bowl.
Add enough milk or cream to measure 2 cups.
In a deep pie dish spread evenly out the zucchini mixture, top that with the cheese and pour the egg mixture over it all.
Bake in the oven for 40-45 minutes, or until the middle is no longer shaky.
Remove from the oven and let rest about 5 minutes before cutting into it.
Enjoy!
Reviews
Most Helpful
This quiche was so incredibly yummy! Thank you for posting!
Fantastic Quiche! I wasn't sure about the 'large' zucchini, but used two 7-8" yellows from the garden. Worked great. I also found it to have quite a bit of water after baking, but I used 1% milk, so that's probably what caused it. Next time, I'll use cream. I drained the water off, and it had absolutely no bad effect on the taste of the dish. I used extra old cheddar, and some of my sweet pickled jalapenos. Sweet Pickled Banana Peppers. Thanks so much for sharing this terrific and easy recipe. Since like you, I have tons of zucchini in the garden, this is going to become a very well used recipe. :) Made for the Garden Forum's July '09 Herb/Spice & More UPDATE Jul 25/09: Told you I'd be making this again. Tried a different take on it. I made it with a crust this time. Used my favourite recipe, and then added chopped fresh chives. I also used 18% coffee cream instead of the milk. It was nice and firm, with no wetness. Thanks again for a great recipe.