Parsley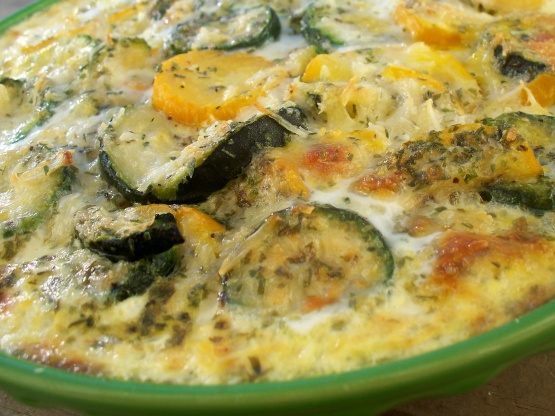 This dish was so simple to make. I loved the flavor of the tarragon. My husband really liked it too. I've been trying all these new recipes that I've gotton on this website and we both agree that this is a keeper! Thanks for the wonderful recipe!
Preheat oven to 350°F degrees.
Butter 9 inch deep-dish pie plate.
Melt butter in heavy large skillet over medium-high heat.
Add zucchini, sauté until golden, about 5 minutes.
Season with salt and pepper.
Layer half the zucchini in prepared dish.
Sprinkle half of tarragon and 1/2 cup cheese over.
Repeat layering with zucchini, tarragon and 1/2 cup cheese.
Combine milk, cream and eggs in small bowl.
Season with salt and pepper.
Pour custard mixture over zucchini.
Sprinkle remaining cheese over.
Bake until gratin is set in center, about 35 minutes.
Serve immediately.