PetsRus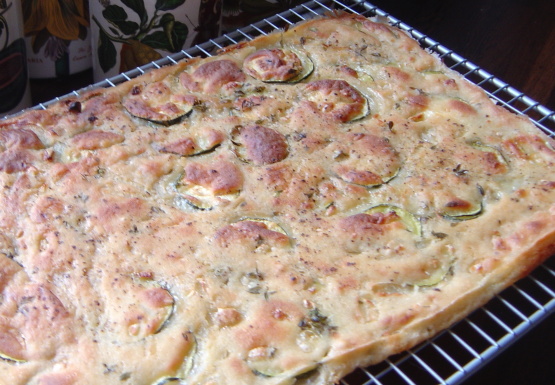 Don't be put off by the simplicity of this dish. This is very similar to a focaccia, but without yeast and simpler to make. It is meant to be thin and crispy. I use a swiss roll tray measuring 20 cm x 30 cm. This is important so that the batter will be thin and crisp up nicely.

You are right, its very simple but also delicious. I did not have exactly 300 grams zucchini but it did not matter. This was very nice served with a pasta dish. The sides were very crispy, the middle a bit softer. Leftovers reheated very well the next day and I will make this again!!!
Heat oven to 230 degrees Celsius. Use some of the olive oil to saute the onions and garlic only.
In a mixing bowl, mix the water, the rest of the olive oil, the salt, pepper and flour. This will be a very liquid mixture.
Add the sliced zucchini and the sauted onions. Mix.
Line the swiss roll pan with baking paper and spray with pam, or oil. Pour in the mixture , drizzle top with some extra olive oil, season with some more salt and pepper and sprinkle on some extra thyme.
Bake for 40- 45 minutes until the sides are golden brown.
Slice into large squares.