Mike O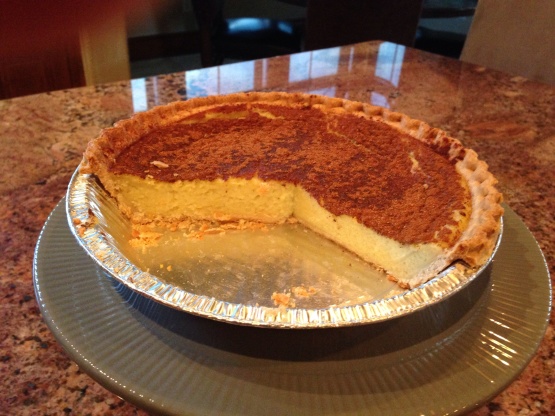 Sounds strange but you will be pleasantly surprised with this cool and refreshing custard pie! Unlike anything you have ever tasted! One slice is NEVER enough! Amazingly easy! Give this one a try. This will make 2 9 inch pies (standard depth shells)

Wow! This is amazing! The whole family absolutely loved it! I halved the recipe since I only wanted to do one pie to try it. I used a graham cracker crust since I am out of the frozen pie crusts (and hate the mess of making my own) I ended up baking it for an additional 10 minutes since it seemed a bit loose, and it probably actually could have baked for even longer since the center was a tad soft. This is definately our new go to recipe to use up zucchini! Thank you so much for sharing!
Peel and slice zucchini and place in boiling water. When tender, remove and rinse with cool water to stop the cooking and for easy handling.
Pull out seeds so only the flesh of the zucchini is left.
Put all the ingredients into a large blender.
Blend until well mixed.
Pour into unbaked pie shells.
Sprinkle well with cinnamon and nutmeg.
Bake at 425 degrees for 10minutes then 350 degrees for 30 minutes.
Let cool on the counter for approximately 1 hour.
Refrigerate well and serve.
Its always best topped with whipped cream.