Ms B.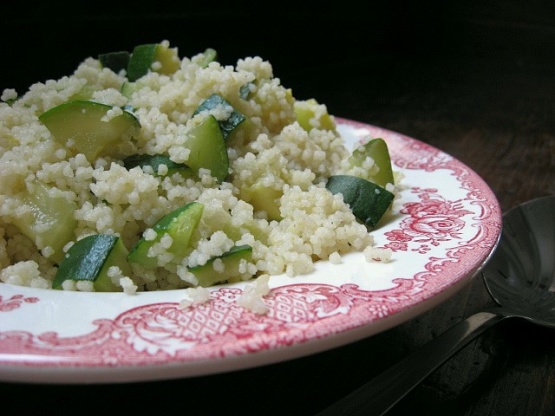 A very quick and easy side dish. It could also double as the base for a cold salad with the addition of other chopped veggies and oil based dressing!

I tried this over the weekend and found it to be a wonderful recipe that accompanied grilled chicken. I'm a cumin lover and it added a wonderful flavor to this side dish. I added some red pepper flakes and 3 cloves of minced garlic to the oil before adding the zucchini and would encourage any spice and garlic lover to add this also. Great one Yooper - it's a keeper!
Cut zucchini into 1/4-inch dice.
In a large non-stick skillet cook zucchini in oil with cumin and salt and pepper to taste over moderate heat, stirring until just tender, about 5 minutes.
Add water and bring to a boil.
Stir in couscous and remove skillet from heat.
Let mixture stand, covered, for 5 minutes.
Fluff couscous with a fork.
Cover for 5 minutes.