Zucchini Con Grana Padanao (Layered Zucchini With Grana Padano)
KateL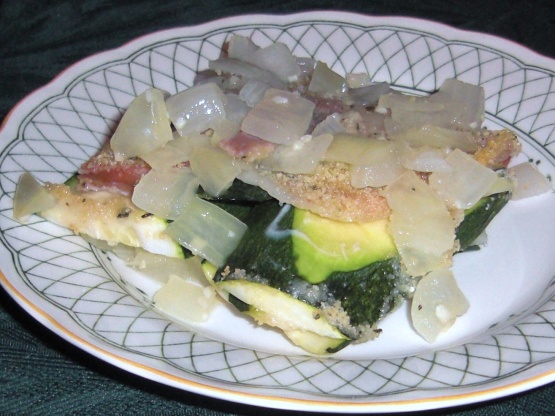 Adapted from a recipe I found in the September-November 2008 issue of the Australian/Italian magazine 'italianicious: essence of Italy' magazine. I've not tried this recipe yet: I just discovered this magazine for the first time today. I've posted the recipe here for safe-keeping, so that I remember to try it.

Top Review by KateL
5 Stars, the prosciutto (subbed for the pancetta) and the finely grated grana padano really set this apart. This makes a large casserole; I used a lasagna pan to make sure I had room. I think one very large onion would be enough, and then it would have fit in a 2 1/2-quart casserole dish. Served with Recipe #286999 #286999, so the chopped onion blended in with the rice and the shrimp. DH is lukewarm on zucchini/courgettes in general, but when zucchini is dressed up like this, he loves it. I think there is enough to easily serve 6 people as a side dish. Thanks for posting. Made for Newest Zaar Tag.
Preheat the oven to 170°C.
Add olive oil to pan and once it is heated, sauté the onions and garlic until they have softened, then place them in a large ovenproof dish.
Cut the top and bottom from each of the zucchini, slice them lengthways and place them, slightly overlapping the slices, on top of the onions and garlic; layer the pancetta on top of the zucchini.
Process the bread, rosemary and grana padano (or parmesan) in a food processor; when combined, sprinkle the mixture over the zucchini and pancetta.
Drizzle a little oil over the top layer of the dish and bake for about 25 minutes.
Serve warm.