Zucchini Chocolate Chip Muffins
Boomette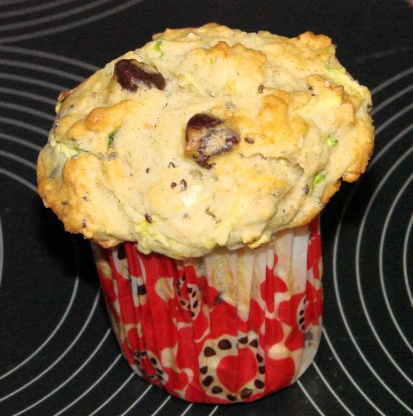 I made this recipe in an attempt to get something healthy into my boys. They gobble these up fast!

Absolutely delicious! Perfect balance - not at all too sweet or savoury.I didn't have seeds so didn't add any. Miss Two who will only eat something if it has crumbs on it :( LOVES them, yippee! Yes, chocolate does help I guess! I got 17 large muffins from my batch. Thankyou for posting.
Preheat oven to 400 degrees and lightly grease muffin cups or use paper liners. In a medium-sized bowl, whisk together the first seven ingredients then set aside.
In a large mixing bowl, cream the butter and sugar together until light and fluffy and almost white in color. Scrape down the bowl to make sure all the butter is incorporated, then add the eggs, one at a time, beating well after each addition. Add the vanilla, zucchini and sour cream and mix until incorporated. Add the dry ingredients and mix on low speed just until the batter is smooth. Fold in chocolate chips. Fill muffin cups and bake for 18-24 minutes, until a tooth pick comes out clean. Remove them from the oven, cool in the pan for 5 minutes, then remove the muffins from the pan to finish cooling on a rack.(muffins left in the pan to cool will become tough from steaming.).