Parsley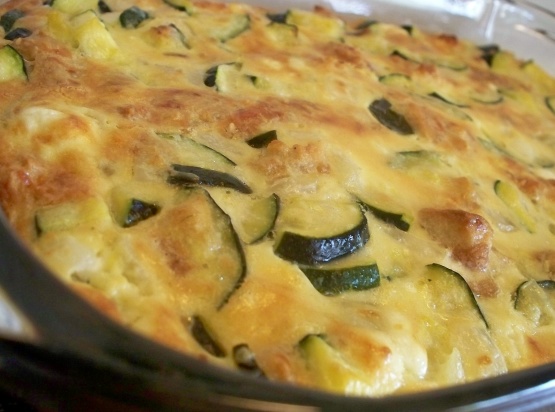 If you're looking for lo-fat-low-calorie, you may want to back out of this page. This is an indulgence. Prep time includes setting to drain water out of the zucchini

Sounds fantastic! I'm going to substitute fat-free half and half for the heavy cream, and maybe use some low-fat cheese. Yum-o!
Place a collander over an empty bowl.
Put cubed zucchini into the collander and sprinkle with the salt; toss well. Allow to sit and drain for 30-40 minutes.
After setting time, preheat oven to 375. Lightly spray a casserole dish; set aside.
Melt butter in a large skillet over medium heat. Add the onions and garlic. Shake off any excess liquid from the zucchini, then add the zucchini. Cook/stir for 8-10 minutes.
Add bread cubes to the skillet and then remove from heat.
In a small bowl, whisk together the heavy cream, eggs, both cheeses and black pepper. Make as smooth as possible. Pour this into the cooked zucchini mixture and stir very well.
Pour into the casserole dish and bake at 375 for 30-40 minutes.