loof751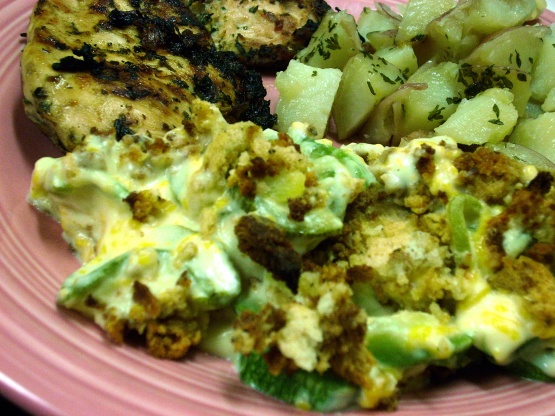 If you have kids and you want to hide the zucchini from them cut it up really small - they will think they are having just another stuffing casserole.

This zucchini casserole was different than any I've made before and pretty good! I really liked the stuffing on the bottom and top. I think you could probably add some cooked chicken to the zucchini/soup/sourcream mixture and have a meal-in-one casserole. Thanks for posting this recipe! Made for Fall PAC 2008
Cook onion and zucchini in boiling water for 5 minutes. Drain.
Combine soup, sour cream and shredded cheese. Add drained zucchini
Combine stuffing mix and melted butter. Spread half of the dressing mix over the bottom of casserole dish. Spoon on vegetables and cover with remaining stuffing.
Bake at 350 degrees for 30 minutes.