JustJanS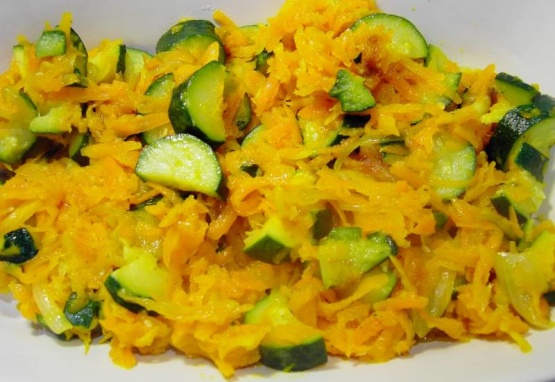 This is an easy, quick, tasty recipe. It is good for potluck dinners. The color makes it quite attractive to serve. Yummy!

This is a beautiful, simple, delicious recipe. I went in to it with low expectations.. really just scrounging around my fridge for something quick to make and expecting a bit of blandness but this was not at all the case, happily. This dish tastes clean, hearty and nourishing and there's so much you can do with it. Highly recommended! Also, extremely cheap to make. I could eat this stuff every day! Happy times in my tummyspace.
Slice zucchini.
Peel and grate carrots.
Peel and slice onion.
Put olive oil and sliced onions into skillet, cover and cook over medium heat until onions are tender.
Add grated carrots, sliced zucchini, salt and pepper.
Cover and continue to cook until all vegetables are soft.
15-20 minutes.
Serve as a side dish.