Zucchini Cakes With Diavolo Sauce
PaulaG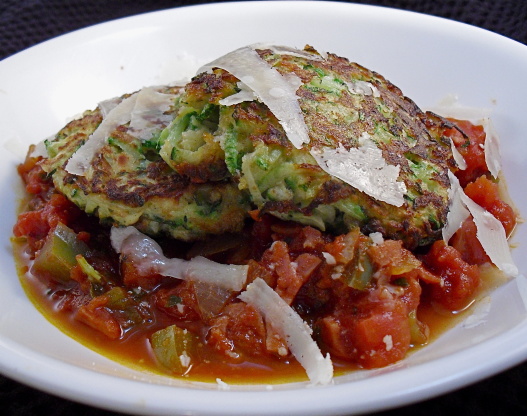 I download this from Cuisine at Home website and with minor adjustments am posting it here for safe keeping. The dish makes a wonderful light supper for 2.

I didn't get a chance to make these during the Italy portion of the Quest, so I made sure to put this recipe aside for Family Picks, and I'm glad I did! The sauce goes perfectly with the zucchini cakes. Loved how simple this was to put together, too. Definitely a keeper, thanks for posting!
In a medium size saucepan, saute the prosciutto in the olive oil until crisp, add in the onion and bell pepper, cook stirring frequently until crisp tender.
Stir in the garlic and tomato paste, cook an additional 2 to 3 minutes, add in the tomato juice from the canned tomatoes and stir mixture scraping up browned bits from bottom of pan.
Add the tomatoes, vinegar and red pepper flakes cook until most of the liquid has evaporated add in the fresh basil and season with salt and pepper to taste. Keep warm while preparing the zucchini cakes.
Using the large side of the box grater, grate the zucchini and onion. Place in the center of a clean kitchen towel, bring up sides and gently squeeze out the moisture.
Place in a medium bowl, add the remaining ingredients and combine well with a spatula.
Heat oil in a non-stick skillet over medium heat and when hot drop the mixture into the hot pan forming into 4 equal cakes. Cook the bottom until crisp, turn and gently press down on top. Continue to cook until the other side is crisp and browned.
Divide the sauce among 2 plates, top with 2 cakes per each and using a vegetable peeler garnish all with strips of fresh Parmesan cheese.