Linajjac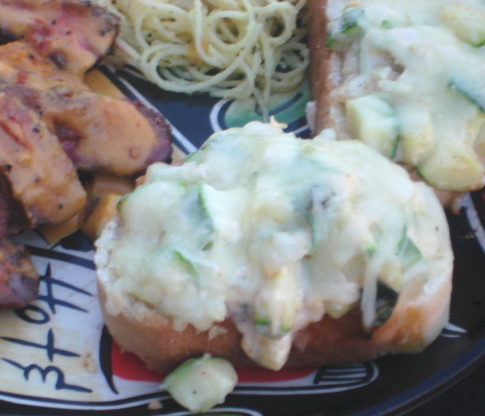 A different twist on bruschetta and a great use for your zucchini. Use smaller zucchinis for this, try your favourite cheese if you don't like swiss, and substitute different herbs if you don't want to use basil. A very adaptable recipe!

I used cream cheese instead of mayo - everything else the same. I found it blah. Would not make again.
Heat olive oil and butter in a frying pan over medium heat. Add zucchini, garlic and onions and stir for 2 to 5 minutes, until just softening. Remove from heat.
Add basil, cayenne, mayo, and salt and pepper to taste and stir well.
Preheat broiler.
Top each baguette slice with 1 1/2 to 2 Tablespoons of zucchini mixture, then add shredded cheese to top.
Broil until cheese is just bubbly.
Yield will vary depending on how much topping and cheese is used on each slice of bread.
Cooking time includes frying time.