Zucchini Bread with Blueberries
marmen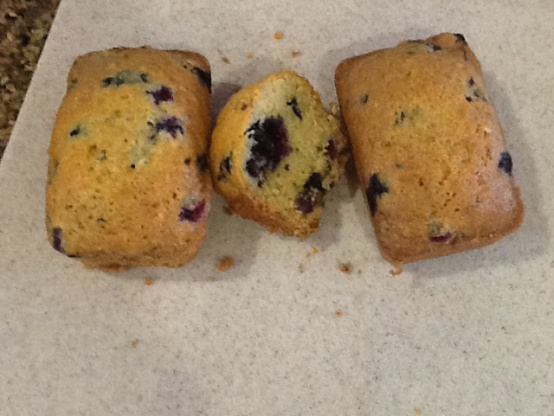 Made this up when I had a glut of both ingredients one summer. It's very moist and is best, I think, when served cold from the refrigerator. Makes 2 loaves so you can share with a friend. This is actually easier to mix by hand than with an electric mixer.

Yummy! I followed some of the other suggestions and only used 1 3/4 cup sugar and put in 1/2 c applesauce for 1/2 of the oil. I used 2 cups of blueberries and it turned out delicious! And healthier :)
Add oil, sugar, zucchini, vanilla and almond extract to beaten eggs.
Sift dry ingredients together and add to batter.
Gently fold in blueberries.
Pour into 2 greased and floured 8x4x2" loaf pans.
Bake at 350° for 1 1/4 hours until inserted toothpick comes out cleanly.
Cool on rack and store in plastic wrap in refrigerator.