Zucchini Bread (Bread Machine)
Eldeevee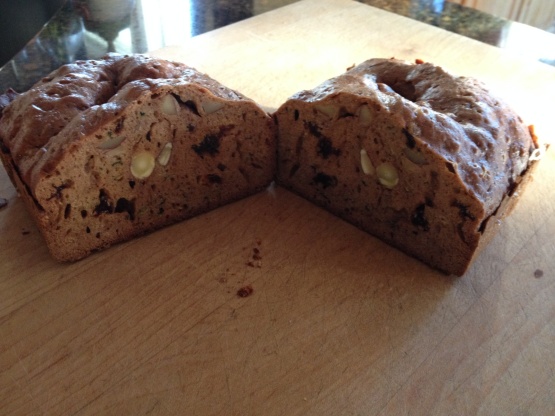 This is a quick bread, not a yeast bread, for a bread machine with a quick bread cycle. From Cuisinart. Posted in response to a request.

I have made this 2 times now. The first time I thought it a bit flat. Talked to Chef and learned some things. Now I realize my newbread machine has a large square loaf pan as opposed to a rectangle loaf pan, thus the lack of height in shape. The taste was PERFECTION! Not only did the taste testers like it they asked for more. Thank goodness I had made 2 for them. Tje first was to a T directions. The 2nd I added in dried cranberries and walnuts and a handful of chocolate chips. ( More for a dessert or after dinner bread but it went the same as the first GONE. I am going to play with the recipe a bit to see if I can get it to rise more and not be so dense but other than that it is great. I baked it on sweet bread setting for 1.5 loaf.
Place ingredients in order shown in bread pan and select Quick Bread/Cake cycle. Select 1 1/2 lb loaf size. Press Start.
After 4 minutes, scrape down the sides and bottom of the bread pan with a rubber spatula. Allow cycle to continue.
When baking is completed, remove and turn out onto wire racki to cool.
Wrap in plastic wrap after completely cooled.
Note: Baking powder and baking soda lose their power faster than you realize. Unless your packages are new, test before using. To test baking soda, put a few tablespoons of white vinegar into a small bowl and add a teaspoon of baking soda. It should bubble up furiously, and the foaming should take several moments to subside. The more bubbles, the more potent the baking soda. If there is no reaction, or you only end up with a handful of small bubbles, you need to replace your baking soda.To test baking powder, baking powder, pour a teaspoonful of baking powder into a bowl or small glass.Fill the bowl with hot water to cover the baking powder (about 1/4 cup should do it).If the baking powder begins to bubble furiously, it's fine to use in your recipes.Tip: For best results, do not dip a wet spoon into the can of baking powder when measuring what you need. The moisture will activate the baking powder left behind in the can and it won't be as good to use next time. If you see lumps in your baking powder, that's usually a sign moisture has found its way inches.