Zucchini Bread and Butter Pickles
JustJanS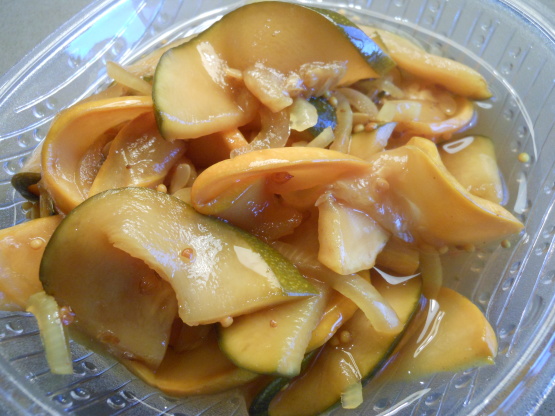 I found this on Taste and have made it a couple of times in an effort to use some of the tons of zucchini we have available right now. It's a great recipe! The three hours salting of the zucchini isn't included in the prep time.
Slice zucchini diagonally into 5mm-thick slices (if you have a mandolin with a waffle-cutter attachment, you can use this to slice). Cut onions in half and, using a knife, thinly slice. Place vegetables in a bowl. Add salt and toss well to combine. Cover and refrigerate for 3 hours.
Drain vegetables. Rinse very well under running water, then drain. Pat dry with paper towels then transfer to a clean stainless steel or heatproof glass bowl.
Place remaining ingredients in a stainless steel saucepan over medium heat. Cook, stirring, until sugar dissolves. Bring to the boil and simmer for 3 minutes. Immediately pour mixture over vegetables.
Divide among sterilised jars and seal while hot. Cool to room temperature then store in the fridge for 2 days before eating, or for up to 2 months.