diner524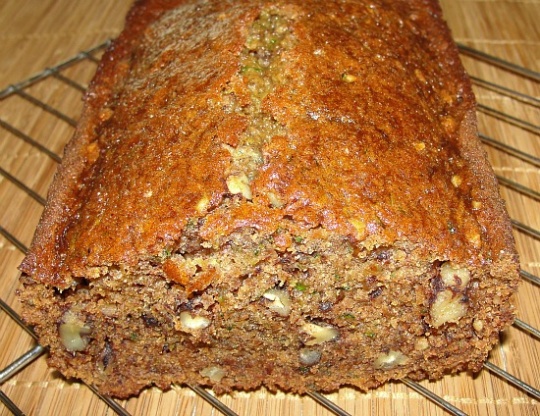 This is my mom's zucchini bread, which I have made low-fat. Sadly, it's not low-calorie. Loaves disappear almost as soon as they are cool enough to eat in our house, which is saying a lot when you have a picky 2-year-old and 50-year-old.
Great lower fat recipe for this bread!!! I have always made the full fat version and wasn't sure if I would like the less fat recipe and I can say that I really did, really didn't notice the difference!! I only made 1/2 of the recipe and did cut back on the sugar to about 1/2 of the amount, just to try it out. The only thing I did different was to add chopped pecans to the recipe (besides the sugar), my favorite. I had it for breakfast, with which I added some cream cheese for the spread and protein. Thanks so much for sharing. Made for Pick A Chef Event Fall 2011!!
Pre-heat the oven to 350°F.
Grease and flour two loaf pans, or spray with baking spray with flour.
Strain the zucchini.
In a large separate bowl, beat together the eggs, sugar, oil and applesauce.
Add all of the other ingredients to the bowl (baking soda, baking powder, cinnamon, salt, vanilla, and flour) and mix by hand. The batter will be cake-like.
Add the zucchini to the bowl and mix by hand.
Pour into the prepared loaf pans.
Bake for 45 to 60 minutes at 350 F, or until a knife inserted comes out clean.