Shug22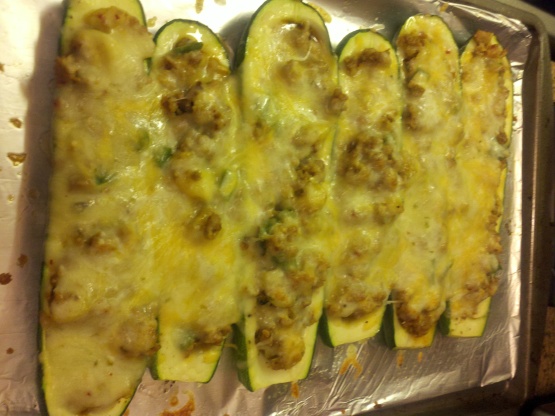 A good way to clear out the zucchini glut. You can stuff with a taco mixture or change the squash to yellow.

This was yummy, but I felt the zuke itself needed a little something more...next time (Oh there is SO gonna be a next time!) I will brush it w/olive oil and then sprinkle with sea salt. I used fresh chopped garden tomatoes in lieu of the canned, and thus needed at least half the can of tomato paste to thicken it up. Also I used Italian Seasoning and oregano in place of the herbs. I used mozzarella to make it more ITalian. Served w/wine and garlic bread it was a great Italian dinner!
Preheat oven to 400 degrees.
Wash and cut zucchini in half lengthwise.
Scoop out seeds leaving at least a 1/4 inch thick shell.
In a frying pan over medium heat brown the ground beef.
Drain off fat and add the onion and garlic, cooking for 3 minutes.
Stir in the tomatoes with juice, wine, tomato paste, salt and herb mix.
Simmer uncovered for around 15 minutes-you want the sauce to thicken up.
Arrange"boats" in a shallow, oiled baking dish and stuff with meat mixture.
Bake at 400 for 25 minutes, top with cheese and continue cooking for another 15 minutes.