Susiecat too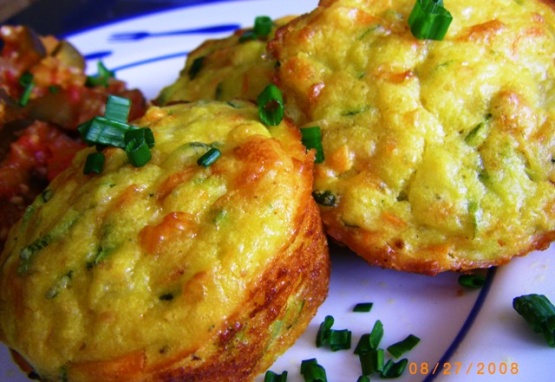 This recipe was sent to me by my mum,who thought that her beloved grandchildren might enjoy them! The first time I made them they didn't even get a chance to go cold,as the children and I devoured them.I have since made them to take to our local playgroup end of term party,and once again,children and parents alike loved them.They are so simple and delicious,and a great way to get some extra veggies into your children.Perfect for picnics and lunchbags.I often pack a few in a tub for when we go shopping for child friendly snacks.I should imagine that these would be good served warm with pre dinner drinks or as part of a finger buffet.

Top Review by MamaJ
These are yummy little bites. They are more like mini, crustless quiches than mini muffins. I wish I would have used paper liners or a non-stick pan as mine did stick quite a bit. I baked them at 375 for 28 minutes but would bake for 30 next time. I think there is huge potential to change out some ingredients depending on your mood. For instance, I might try prosciutto instead of bacon and roasted red pepper instead of carrot and add Italian seasoning for an Italian style bite. Perhaps I would use corn muffin mix instead of flour and add jack/cheddar combo and green chilies for a little Tex/Mex flair. They would also be great with a little seafood and Old Bay. The possibilities are endless. Thanks for posting such a delicious and versatile recipe.
Heat the oil in a large pan and sauté onion until translucent. Add the bacon and fry until it starts to colour. Add the carrot and zucchini and cook for about 2 minutes.
Transfer mixture to a bowl to cool.
Beat the eggs, cream and cheese together; season to taste.
Stir the egg mixture into the cooled zucchini mixture. Stir in the flour.
Grease and flour little muffin/bun tins. Spoon mixture into the holes.
Bake at 180°C/350°F/Gas 4 for 15-20 minutes.