Prep 10 mins
Cook 20 mins
.
Make and share this Zucchini Beef Skillet recipe from Food.com.
Directions
Saute onion and pepper.
Add ground beef and brown.
Add remaining ingredients, cover, and simmer 15 minutes or until veggies are tender.
Reviews
Most Helpful
This recipe was a hit with the fam! Since a couple of the reviews mentioned that it might need a little more flavor, I adjusted the recipe as follows:<br/>1 tsp Tajin ( Mexican Seasoning)<br/>14 oz can diced tomatoes with jalapeño peppers (I drained the liquid from the tomatoes into a measuring cup and then added water to the 1/2 cup mark)<br/><br/>I served this over rice and sprinkled some Mexican Blend Shredded Cheese on each serving.
This was good but as others have mentioned, it's a little bland. I consider recipes to be a guideline; not necessarily written in stone, change it to your liking, everyone has different tastes guideline. So I added more, lots more garlic! Added more oregano, dash of dried basil and about 2 tsp of apple cider vinegar. I served this over brown rice. Everyone ate it and it was easy to throw together! Thank you!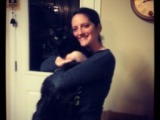 My partner and I are trying to eat better. I was scrolling online and found this recipe, needless to say this was quick, easy AND healthy. We improvised and used chicken instead! So delish!
Get Healthy Your Way