Janni402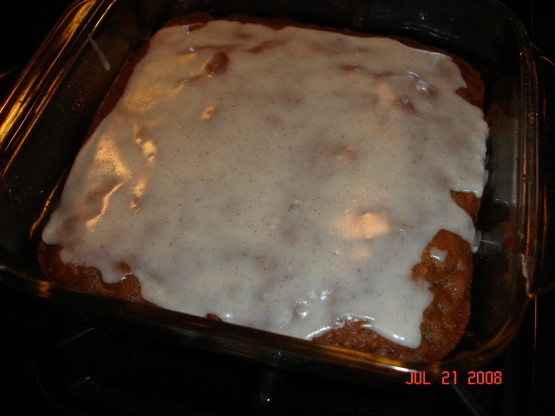 A baking classic from the Betty Crocker website. The addition of clove in the bar and the frosting makes these unique! Cook time does not include cooling.

These bars were moist, delicious & easy to make. The only change I made was to add more cinnamon & cloves cuz I wanted it spicier. The glaze was tasty, with just the right amount of sweetness. Also, it got better the longer it sat, although by day 3 it was gone!
For the bars:.
Heat the oven to 350°F Grease bottom and sides of square pan, 9x9x2 or 8x8x2 inches.
Mix brown sugar, butter, vanilla and egg in large bowl. Stir in flour, baking soda, cinnamon and cloves. Stir in zucchini and nuts. Spread into pan.
Bake 25 - 30 minutes or until toothpick inserted in center comes out clean. Cool completely, about 1 hour. Frost with Spice Frosting.
For the frosting:.
Mix all ingredients until smooth and spreadable.