kindcook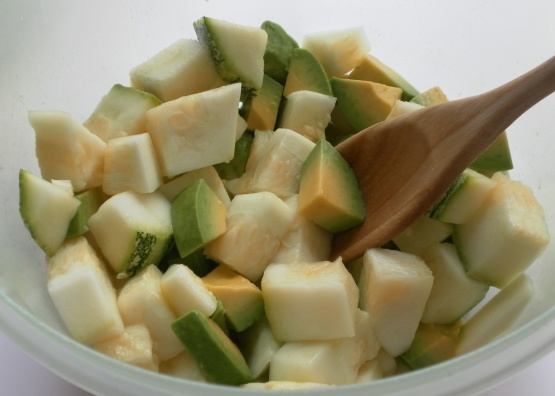 From "Sundays at Moosewood," their brunch cookbook. Light, refreshing, and vegan, it's a nice change of pace that quite nearly qualifies as 'raw' food. Cook time is minimum chill time. Add other spices as you wish (I like to combine the oil, lemon juice, and garlic with some rosemary about half an hour before tossing with the veggies).

What a fresh, delicious salad! I made this to accompany mahi mahi and it was great. I only used 1 tablespoon of olive oil as I don't like my salads too greasy, and it was plenty coated to me. I also liked that the lemon flavor was not over powering. I upped the zucchini to 3 cups and thought it could have easily been 4 cups, as I like the ratio of zucchini to avocado to be about 4 to 1. Going to make this again really soon.
2

cups zucchini, cubed and lightly steamed

1

haas avocado, peeled,pitted,and cubed
1⁄4 cup oil (I use canola or canola/olive mix)

2

tablespoons fresh lemon juice

1

clove garlic, minced or pressed
Combine all ingredients.
Cover and chill at least one hour.