Ang11002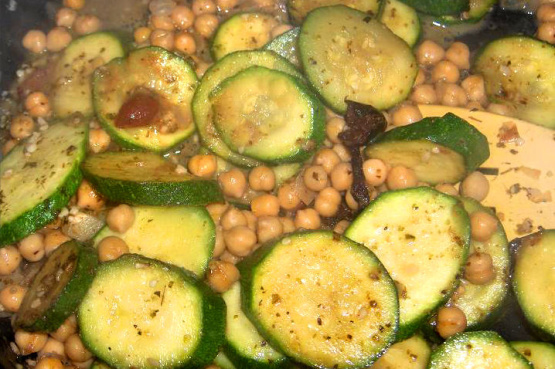 Great way to use up all the summer zucchini. Posted for Zaar World Tour. Source is a Moosewood cookbook.

I made this with couscous, which really enhanced the flavor of the meal. My family and I have decided to eat 3 vegetarian meals week, and this was the first one I made. I was so happy with the results! The portions were great, and no one missed the meat! I will be making this again and again!
Sauté the onions and garlic until onion is translucent.
Add the zucchini and marjoram and cook on medium heat until squash is just tender.
If too dry to simmer, add in 1/4 cup water. This dish should be juicy.
Add the garbanzos, olives, cumin, lemon juice, and seasonings.
Continue to cook until everything is heated. Don't let the zucchini get too soft.
Adjust the lemon and herbs to your taste and ladle the vegetables over couscous or rice.
Top with feta cheese.