Zucchini Angel Hair Pancake
Prep 15 mins
Cook 20 mins

Pancake cut into 4 wedges makes this a great healthy meal..
Directions
Place zucchini in a collander, and sprinkle with 1/2 teaspoon salt, toss well and drain for 20 minutes tossing occasionally.
Press zucchini between paper towels until barely moist.
Cook pasta according to package directions, omitting salt and fat.
Bring marinara to a simmer in a small saucepan, keeping warm.
Weigh or lightly spoon flour into a dry measuring cup, and level with a knife.
Combine remaining 1/2 teaspoon salt, flour and the next 9 ingredients in a large bowl.
Add zuchnini and pasta to bowl, and toss well.
Melt butter in a nonstick skillet over medium-high heat.
Add zuchnini mixture to pan pressing down.
Cook for 5 minutes or until bottom is lightly browned.
Carefully turn pancake over, and cook 5 minutes or until bottom is lightly browned.
Cut into 8 wedges, and serve with marinara sauce.
Reviews
Most Helpful
This was very good. I used angel hair noodles as the recipe stated and served it with Stewed Tomatoes Jefferson. It reminds me of a spaghetti pie only crispy on the edges. Will make again, thanks!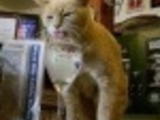 This was really good!! Full of flavour, moist and very satisfying, what a great way to use zucchini!!! Served as directed with marinara sauce, and a mixture of brown/wild rice, excellent dinner. Just the 2 of us so I had some left, and oh dear, this makes excellent midnight munchies!!!! I used ramen noodles, which worked very well. Really enjoyed this recipe, thanks for sharing! Made for PRMR tag game.