Zucchini and Yellow Squash Soup
Gail W.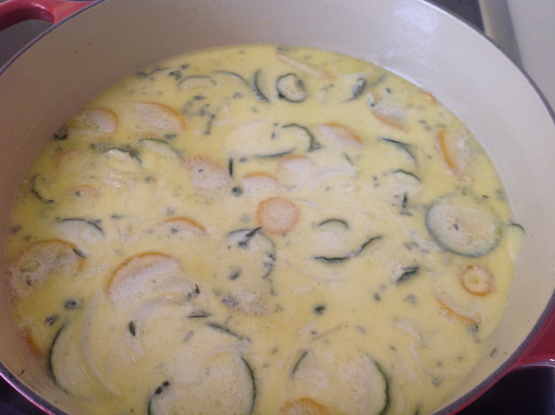 This easy to prepare soup is the creation of sous-chef Carol McKenzie of the Sebanton restaurant in Longmont, Colorado. I found it in the RSVP section of a July 1987 issue of Bon Appetit. It seems like a perfect way to use up that surplus of squashes your summer garden produces!
Heat oil in heavy large saucepan over medium-low heat.
Add onion,shallots and garlic and cook until onion is translucent,stirring occasionally, about 10 minutes.
Add flour and stir 3 minutes.
Add zucchini and crookneck squash and cook until softened, stirring frequently, about 5 minutes.
Stir in stock,heavy cream, basil and oregano.
Reduce heat and simmer 20 minutes.
Season with salt and pepper to taste and serve immediately.
Soup may be pureeed if a creamier texture is desired.