Zucchini and Tuna Pappardelle
IngridH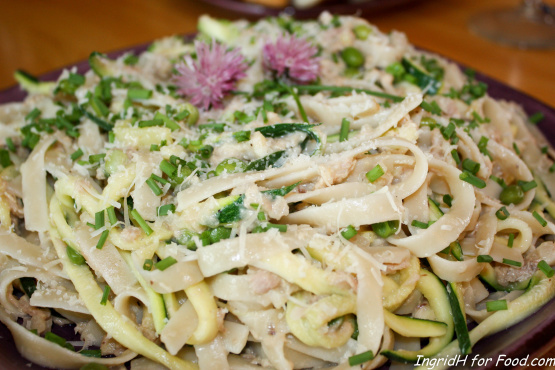 Think of this recipe as a roadmap - salmon or chicken work as well as the tuna, as does any shorter pasta. This recipe goes together quickly once you start cooking, so have everything ready to go. I do not recall where I got this recipe. I always use low-sodium broths.

Although I took your advice and thought roadmap, I did actually stick largely to recipe, my only ' changes ' were to use penne, since I didn't have pappardelle (but another time I would rather use the pappardelle, I think it would complement this dish very well), and chicken rather than tuna, simply because I'm not very fond of tuna, and even the smell is a bit off-putting. I think tuna would be excellent in this though, it would really lend itself to blend with the other ingredients and flavours. I loved the use of zucchini ribbons, and all in all, we really enjoyed this easily prepared dish, rich and tasty, an excellent pasta dinner. Thanks duonyte, made for PRMR tag game
Cook pasta in salted water until al dente, 8 to 10 minutes.
Using a vegetable peeler, slice the zucchini into ribbons and set aside.
Melt the butter in a large skillet over medium-high heat. Add shallots or onions, 1/2 tsp salt, 1/4 tsp pepper and saute until golden, about 5 minutes.
Add wine and cook until it is almost all evaporated, 3 to 4 minutes. Add the broth and cook 2 to 3 minutes.
Reduce heat to medium, add the cream and simmer until just thickened., 3 to 4 minutes.
Add the peas and cook 1 minute.
Add the 1/2 cup cheese and the tuna and cook until heated through, 1 to 2 minutes.
Drain the pasta, reserving a few tablespoons of the cooking water, and add the pasta and reserved cooking water to the skillet.
Add the zucchini, 3 tbl chives, and lemon juice, and toss gently. Correct seasonings.
Transfer to a serving platter and sprinkle with remaining chives and 2 tbl parmesan.