Zucchini and Tomato Salad
ImPat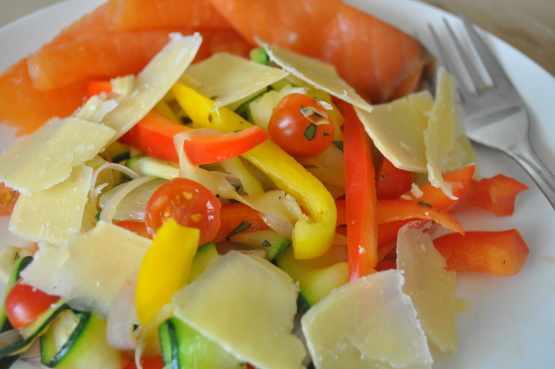 Not only a lovely salad to serve, but another great way to use those zucchini up! Light Dressing could be used for a lower fat version.

Top Review by ImPat
Scaled this back for 1 serve and shaved my zucchini with a vegatble peeler and loved the warmth of the zucchini, onion and garlic mixed with the fresh red cherry tomatoes picked from the garden and sharp paremesan cheese and some salty smoked salmon on the side = a great lunch, thank you Tisme, made for Make My Recipe - Edition 16.
Heat the oil in a pan or on a preheated BBQ and cook onion and zucchini for 2-3 minutes each side or until tender. Remove the oinion and zucchini to a large bowl and add garlic to the pan stirring through for a few minutes until heated throguh, being careful not to burn the garlic.Add garlic to the bowl with the onions and zucchini.
Add the capsicum, tomatoes, basil and dressing to the bowl that has he onion, zucchini and garlic and toss to coat. Refrigerate for 10 minutes.
Arrange salad on serving plates and sprinkle with parmesan.
Serve.