Zucchini and Rice Casserole
tasb395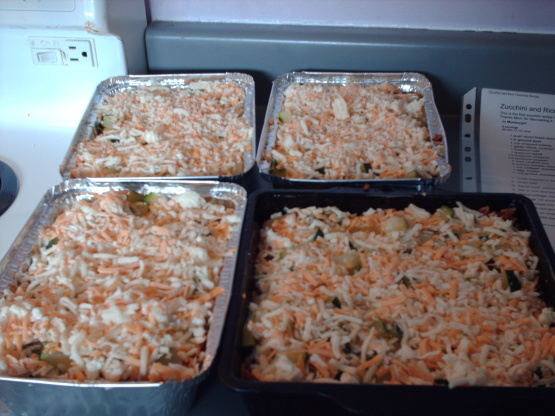 This is the first zucchini recipe I ever tasted and it is still my absolute favorite after all of these years. Thanks Mom for discovering it.

Tastes pretty good, but the prep time is really underestimated. Figure the full 50 minutes to get all of the slicing, chopping, browning & cooking done; then yes, about 10 minutes to assemble it. Also, 25 minutes isn't really long enough for baking, given the bulk of it and the fact that you need to be sure that the egg mixture cooks thoroughly. I baked it for 35 minutes, and it could have used 10 more to have the egg mixture really set. As to the ingredient measurements, I assumed that 1 qt. of zucchini was about 4 cups; to balance the amounts of the other ingredients, I wound up using about 5 cups.
Cook zucchini in boiling, salted water, 2-3 minutes.
Drain well.
Saute beef, onions, garlic and seasonings until onions are transparent.
Stir in rice and tomato sauce.
Blend cottage cheese and egg in separate bowl.
Arrange 1/2 zucchini slices in a buttered casserole.
Spoon meat-rice mixture, then spread with cottage cheese mixture.
Top with remaining zucchini slices.
Sprinkle on cheddar cheese.
Bake at 350 degrees for 20-25 minutes.