Annacia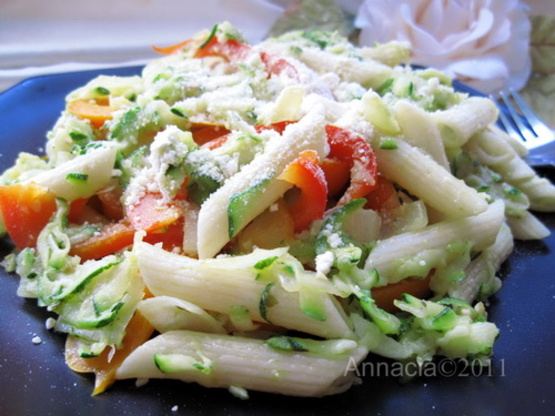 This is adapted from Canadian Living Fast Fix Five Ingredient cookbook.

I hate to give this 3 stars but my family really didn't care for it. We had fresh peppers and zucchini from the garden that we used and went with fresh grated parmesan for the cheese. The kids didn't like it at all and DH and I thought it was ok, but that was after we added additional garlic, salt, pepper and cheese.
Over medium heat, saute the garlic along with the herb seasoning and pepper in the oil for 4 minutes.
Add the peppers and saute another 4 minutes stirring occasionally.
Increase heat to medium high, add the shredded zucchini and saute until heated through.
Season with salt to taste.
Toss the mixture with the warm pasta and cheese of choice.
Serve warm or cold.
Note: If using Feta it does not need to be grated just crumbled to the size you like.